Best Adidas Vegan Shoes [Reviewed 2022]
Let us suppose you are a huge fan of Adidas and a vegetarian or vegan at the same time, and you simply can't accept real leather or over animal-based products in your wardrobe. There is an amazing solution to your problem, and I am here to show you the best vegan Adidas shoes on the market today. Let get us to it. 
But first, a little introduction. Of course, like other companies, Adidas is not completely a vegan brand and that's fine, it does not have to be. The main reason I choose to write this article is that a lot of Adidas models are actually vegan and can be categorized as vegan shoes, that is why this company has a right to be called cruelty-free.
Although it uses animal products, the quantity of leather and animal glue is significantly smaller than the synthetic leather and eco-friendly glue, so don't worry, is fine to support this company. They even have a plan to reduce the amount of ocean plastic by using it in some of their products. But about that later in the article. 
For now, I simply want to say that Adidas has chosen the right path to walk on, they are increasing the number of synthetic materials used yearly and that is a great job. This article will contain the top 10 vegan sneakers made by Adidas that will blow your mind.
Best animal-free Adidas shoes
The best pair of vegan running shoes you can find on the market. Adidas CloudFoam Pure Shoes is made to explore and conquer, giving you the possibility to excel at the highest level. The whole construction is very lightweight and flexible, hence, you can pack them for a quick jogging session outside the city or a workout in the Gym. The lace closure in tandem with the knit textile upper provides a delightful fit even if you didn't find the right size and chose a bigger pair of shoes. 
Cloudfoam memory sock liner and a textile lining give the best cushioning you have ever felt, combined with the outsole and the midsole also made of Cloudfoam, these shoes are the most comfortable sportswear I have ever bought. Being made of entirely synthetic materials, these shoes can be machine washed without any problems, another amazing perk of vegan materials.
Advantages
The feeling of being on a cloud

An affordable price
Disadvantages
If you won't take care of the sole, it will wear out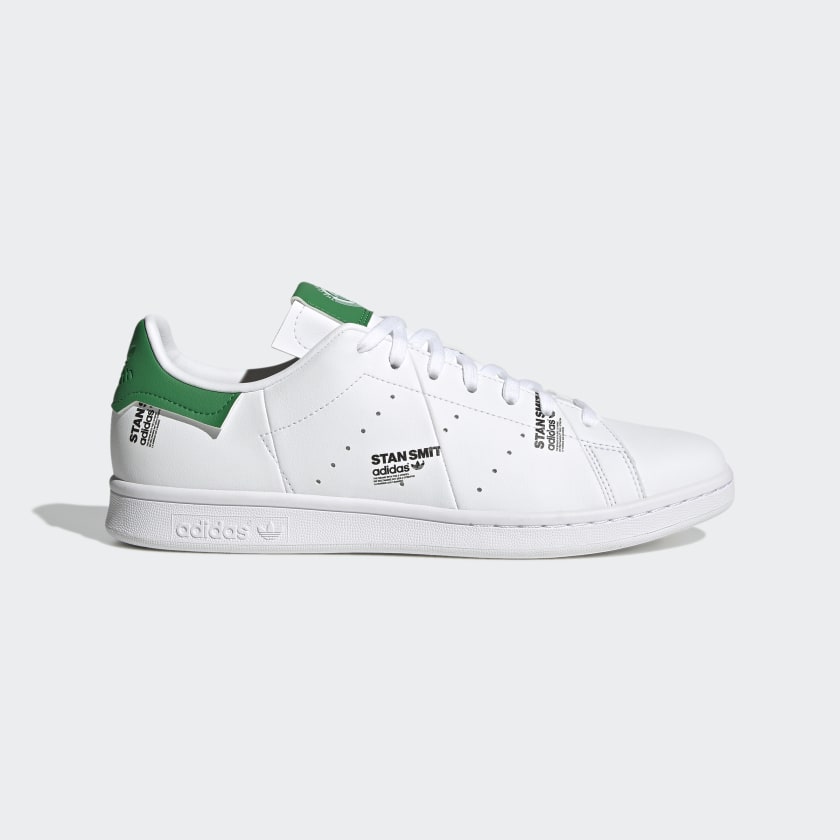 This pair is about sustainability and style. Over the past 40 years, Stan Smith Shoes by Adidas have continued to hold their place as an icon of worldwide style. Today, the company has decided to rethink the materials the icon is made of and, as a result, 50% of the upper is made of recycled content, no virgin polyester. The rubber outsole is made of rubber waste from other models. 
Another good part about these shoes is the fact that all the animal-derived ingredients or materials used in the past have been replaced with vegan products. The design remains the same, iconic and fresh, it's just made with the planet in mind. In my opinion, vegan Stan Smith shoes are the best streetwear made by Adidas because of their simple design that goes perfect with a lot of outfits, from casual to sporty ones.
Advantages
Iconic style made with vegan materials

Best for casual outfits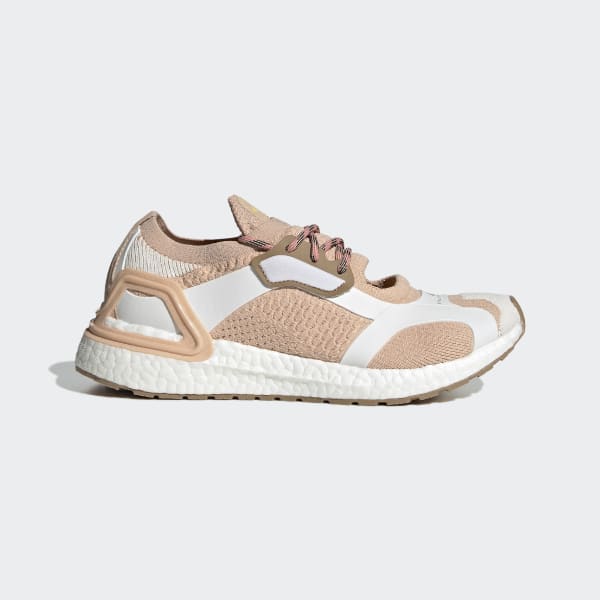 Adidas By Stella McCartney Ultra Boosta Sandal is literally the best-selling Ultra Boost sneaker made by Adidas. Is so popular because of the perfect mix of recycled materials and style. Excellent for workouts and sports in general, Ultra Boost sandals are so comfortable you won't feel the ground under your feet at all. Like Adidas says you will feel like you are running "atop a cloud".  On top of that, these sneakers are extremely stylish and fresh-looking, no wonder why a lot of people are searching for them. 
The synthetic upper made of Primeknit wraps your feet and, in tandem with the lace closure, gives you a delightful fit. This model is part of the vegan collection produced by Adidas, which means that you won't be forced to call the support or ask the consultants because you can be sure about the absence of suede or other animal products.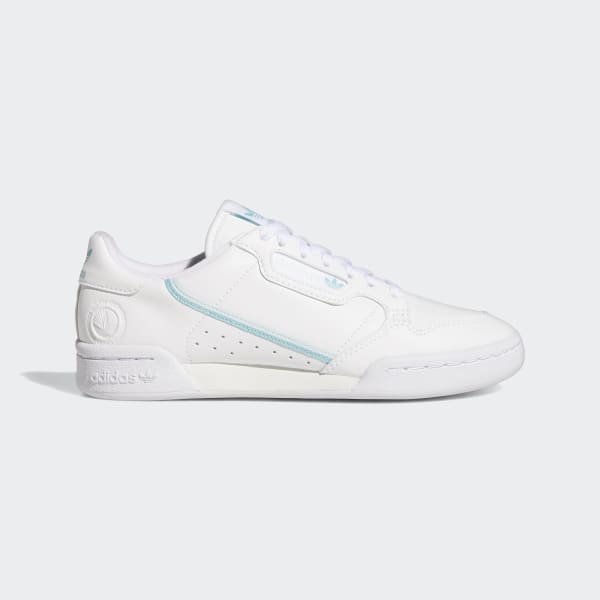 This is the vegan version of the legendary Continental 80. Unfortunately, the original model is made entirely of real leather and can't be categorized as a vegan product at all. This product not only is vegan but also made of recycled materials. Primegreen is a technology that uses recycled polyester to make a new, practically virgin one. The upper is made of recycled content and 50% of the whole mass of the shoe is made of recycled materials. That is truly amazing guys. 
Another amazing part of these shoes is the algae-based EVA foam that helps clean at least 30 liters of polluted lake water per pair. The rubber outsole is attached to the upper with the usage of vegan glue, which makes this pair to be entirely made of friendly materials.
Advantages
Classic design, new materials

Recycled materials that don't pollute the wilderness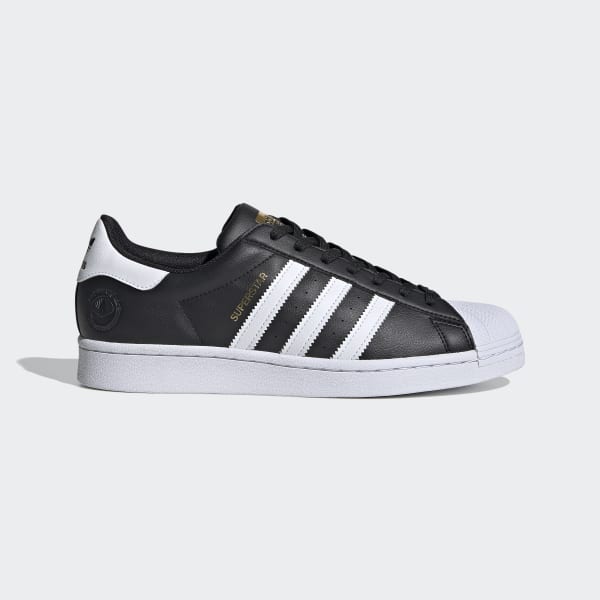 A part of Adidas Originals collection that features vegan leather and other eco-friendly materials instead of the obsolete animal ones. For me, Superstar Vegan Shoes are the best Adidas sneakers ever produced because of the original design that is loved worldwide combined with vegan and sustainable materials that not only do not harm nature but also give you the feeling of being the best and most stylish ever. 
Like with other recycled or vegan models made by Adidas, Superstar Vegan shoes have a 50% part of recycled content used at their production. No virgin polyester whatsoever. The lace closure makes these shoes very comfortable and the recycler rubber sole keeps your feet away from tiny rocks or grains of sand that could harm them.
Advantages
No virgin polyester

The best Adidas sneakers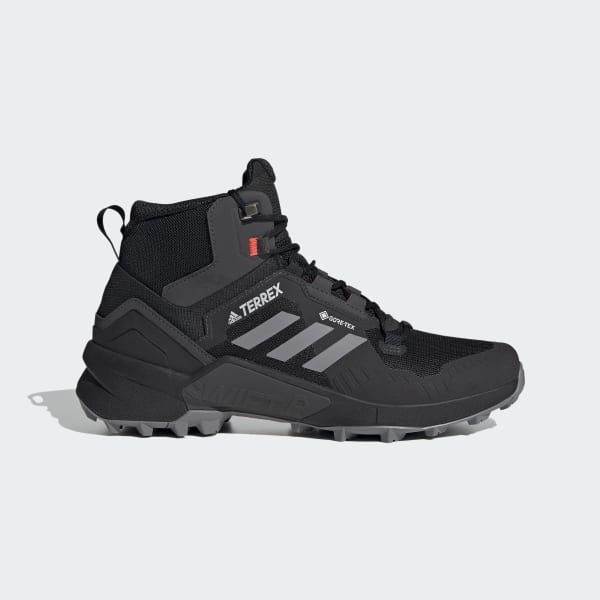 A grippy pair of hiking boots that can save you in the most extreme situations. What lies ahead of you when you are out in the woods or climbing a mountain can't be predicted, that is why you should have the best equipment every time you are going on such an adventure. Terrex Swift R3 is the perfect pair of hiking boots for such situations. The waterproof upper made of textile and enforced with Gore-Tex membrane will keep your feet dry after the passage of a small stream or even river. 
The speed lacing system will give you the opportunity to save some time in every situation you will need to take off your shoes. The Continental Rubber outsole won't give you the chance to slide down on some wet grass or a muddy road and the EVA midsole will keep your feet in complete security and comfort.
Advantages
Waterproof and very comfortable

Minimal risk of injuries
Disadvantages
Can be a little heavy for some people
The new vegan road running shoes made by Adidas, Questar Flow are made of 100% Synthetic materials. Knit textile upper is extremely breathable and can provide a delightful fit for your feet. The closure system based on laces in tandem with the sock-like construction of the shoe hugs the foot and ensures both security and comfort. 
Combined Cloudfoam midsole and outsole provide an amazing feeling of walking on a cloud. The outstanding cushioning ensured by this technology amazes all the people that have never tried it before. The first time I walked into these, I could not believe the extreme comfort that is provided by this technology. Another great perk of this model is the OrthoLite Float sock liner that adds comfort and softness to the entire construction.
Advantages
Perfect for running and exercising

A good fit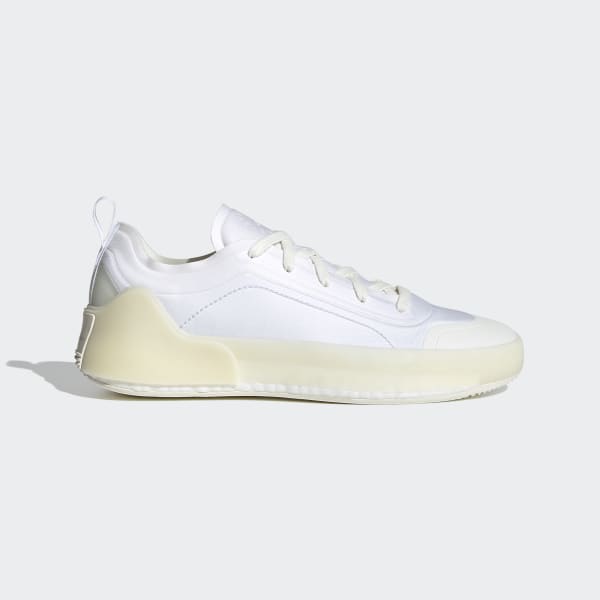 Treino Shoes, another pair of vegan sneakers made by the notorious designer Stella McCartney for the german company. Sustainable and stylish, this model is orientated more on the sports field than on the fashion one. This pair can keep up with all the training sessions you have planned for the day and, at the same time, is capable of being extremely fresh and suitable for any casual outfit you could possibly choose.
The recycled polyester upper, made of Primegreen plastic, decrease the total mass of the shoe, making it perfect for dancing or exercising. Rubber outsole and extra support around the heel are ensuring security for your feet while running or performing some heavy weight-lifting. Although it seems like these shoes are just another piece of expensive style, they are not. Treino shoes are made for high performance in the gym or outside.
Advantages
Both style and sport in one pair of shoes

Recycled materials used everywhere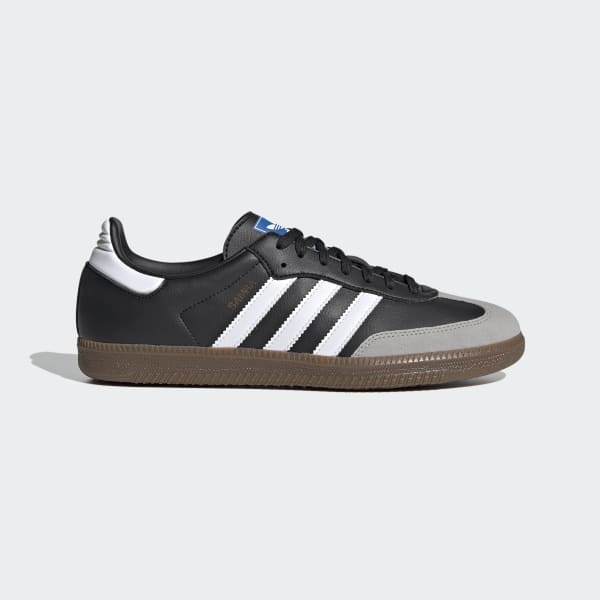 Started as a typical indoor soccer pair of shoes, Samba has gone on to cover expansive ground. Now, these shoes are used not only on the soccer field but also on stages and stress all across the globe. I know you think that it can't be right, these shoes are not vegan, they are made of leather and I can see that. Don't worry, it's faux leather and is synthetical. Another perk of this model is that, although it doesn't use original materials, the design has remained the same, even the famous T-toe didn't disappear. 
The product is made with recycled content, as a part of Adidas' ambition to end plastic waste and pollution. The Upper is made of faux leather as I said, the whole thing is in the sole. The rubber outsole does have a huge part of recycled materials in it. Over 50% of the whole mass of it is made of wasted rubber from over Adidas models.
Advantages

Wasted rubber used at maximum

Synthetic leather
Disadvantages
Designed for soccer, no softness
This is the most interesting model in our top if you ask me. Not only does it give you the best cushioning ever, but it also is constructed with the usage of Parley Ocean Plastic. Is it not amazing how Adidas is implementing some kind of recycled materials or recycling technology in every product that they produce? I can answer that for you, yes it is. This whole thing is part of a big plan that is supposed to clean both the oceans and the earth from the excessive amount of trashed plastic. 
The Primeknit upper gives you the opportunity to run for a long time with your feet completely dry and cool because of the outstanding breathability. The rubber outsole is made of durable materials that won't permit your feet to slide on wet grass or muddy terrain.
Advantages
Soft and comfortable

The best at running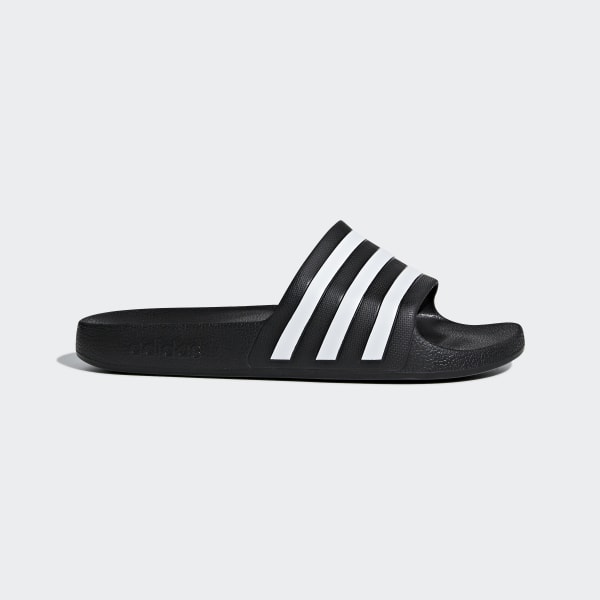 Adilettes are a model that doesn't need to be described at all. Just keep in your mind that these Aqua Slides are vegan and do have a rubber sole that will keep you stable on all kinds of floors, in the shower, or by the pool, doesn't matter. 
The whole construction is made of lightweight rubber that you won't even feel. The biggest perk of this model is that the material used is so quick-drying you won't even feel the water in them.
How to find a vegan pair of Adidas shoes?
Compared to another giant in the sneakers industry, yes, I'm talking about Nike, Adidas has an entire compartment on their site where is shown their vegan collection. In this case, the right question from you is why did I write this guide if Adidas did it before me. The answer is that, although there are some pairs that are labeled as vegan, there are more pairs that aren't and still have only vegan or synthetic materials. That is the main reason that made me write this part of the article. 
Firstly, you should never judge a pair of shoes just by using your eyes. There are a lot of materials that are so similar to real leather that even specialists in this field can't make the difference without any additional tests. For example, faux leather is so similar to the real one that you won't be able to make a difference even if you had 2 identical pairs of shoes, one made of real leather and another made of synthetical one. 
So, we clarified that point. Now, let's talk about the unlabeled pairs of vegan shoes. For example, the NMD model is completely vegan but Adidas didn't add them to their vegan collection. Why? Because it is expensive to claim that your shoes are vegan and if Adidas did affirm that all of their vegan shoes were actually vegan, it wouldn't be the best business move. You can find on their official site or even on Amazon a lot of products that say 100% synthetic and that are the models we are looking for. 
Finally, if you aren't sure that the chosen pair is vegan, the best way is to simply contact the company and ask about it. Be sure that they don't have anything to hide and will answer completely honestly all of your questions. 
Didn't find your perfect pair of vegan shoes from Adidas? Check out our top picks for Nike vegan shoes.
Some questions you might have
What are vegans and vegan shoes?
So, simply put, a vegan is a person who doesn't eat meat, eggs, cheese other products that come from the animal world. But vegan is not only what you eat, it is also what you wear. That is the moment when vegan shoes come in. Vegan shoes are the models that don't use animal products at all, they are completely cruelty-free. That rule includes leather, suede, animal glue, fangs, and other products obtained from dead animals.
Why vegan?
Obviously, that is the future not only in the sneaker market but in all markets, starting with footwear and ending with the food industry. It is simply cheaper and more reliable because of the increased durability and other possibilities that can't be reached by natural leather or other natural products.
For example, there is a type of glue made of animal connective tissue. It is not as strong as the synthetic one, has worse durability and it wears out a lot faster than the competitors. The question is, why to keep killing the poor animals for their connective tissue when there is a vegan alternative, much better and cheaper. 
Also read: Best Vegan Dress Shoes
How differenciate between real leather and synthetic leather?
The simplest way to do that is by reading the label on the inner part of the shoe. If it does as that the leather is synthetic, there it is, the vegan pair of shoes you have always wanted. If not, this is a real leather pair of shoes and you can go find something else because this is not our way. 
Conclusion
I really don't understand why people don't want to accept the future and start buying the vegan pairs that are exposed everywhere. I wrote this article so you if you are not a vegan, could understand that there is no difference between real leather and synthetic leather. You might buy vegan footwear all your life and even don't know about it. Be kinder to the animals and start buying vegan footwear and not only footwear. There are plenty of vegan shoe brands that sell outstanding products, you should try them.