Best Vegan Skateboard Shoes [2022 Reviews]
Skating is quite dangerous. The tricks you are able to perform depend as much on the pair of shoes you chose to wear as they do on your skateboard. Now, there are a lot more non-vegan models than vegan ones but, fortunately, some companies do have vegan options. Your shoes are ought to be flexible so you have the ability to move freely while skating but not too flexible because you'll also need some support. Also, the pair of shoes you will choose should be both durable and lightweight, otherwise, you won't feel comfortable enough to do some tricks.
So, although I said that there are some vegan options on the market, taking into consideration the number of conditions that must be met when talking about the perfect pair, there aren't enough options on the market to choose from. However, I made a list that contains the 9 best pairs of vegan skating shoes that are available on the market today. 
On top of that, I wrote a short buying guide for those who want to get a better general idea of what you need to look for in your next pair of shoes. You will be able not only to difference the cruelty-free pairs from the amount of non-vegan shoes but also will have the chance to understand how to choose the best pair for your style.
Top 9 Vegan Skating Shoes
The brand was established in 1994 by Damon Way and Ken Block. It was originally based in California and since then, its products have spread all around the world, considered to be the number one skateboarding footwear brand in the world. Now, DC Shoes not only does have a lot of vegan and non-vegan footwear models but also produces clothes, bags, and some other great stuff. 
This particular model, DC Manual Shoes, is considered to be the most authentic and suitable pair of shoes for skaters. In the past, this model was being made from leather and other animal-based materials but, since the popularization of cruelty-free materials, DC Shoes presented the new 100% vegan-friendly Manual Shoes. As for their quality, in my opinion, they are even more suitable for skateboarding than the old, animal-based model. 
The rubber sole, with its grippy Pill Pattern tread, provides perfect grip while the Ortholite insole adds comfort and cushion to the whole construction. The upper made of lightweight and breathable canvas won't let your feet sweat and will provide the flexibility that is needed when doing some complex tricks. Their vulcanized silhouette not only does add a bit of style to these old-fashioned shoes but also increases the durability and the stability of the sole, making the model safer for daily usage.
Advantages
100% vegan and eco-friendly

OrthoLite insole that adds comfort

Old-fashioned and stylish
Disadvantages
A lot of non-vegan models made by this company

The Californian brand, founded in 1986, is solely focused on the production of skateboarding footwear, clothes, and accessories. Since 2013 the company is sponsoring numerous professional skateboarders and BMX riders so you should not worry about the quality of the technologies used. Etnies is currently participating in a lot of pro-nature companies and has planted over 2 million trees since the launch of their own Buy a Shoes Plant a Tree campaign in 2011.
Etnies Jameson 2 is the best skating model made by this company. Not only does it have the most stylish silhouette but also is made using both recycled plastic and recycled rubber. This way, the company is trying to reduce the amount of waste, making the world a better place for us and our future generations. The faux-vulc cup sole construction enables better durability and while the STI Foam Lite 1 insole provides the right amount of comfort and cushioning.  
The thinly padded tongue and collar in tandem with the canvas textile upper allows you to move freely while ensuring the best possible fit. The laces add a bit of additional control to their tightness, making Jameson 2 Eco Skater Shoe an even more comfortable model.
Advantages
Buy a Shoe Plant a Tree project

Laces that add control other the fit
Founded in 2003 by professional skater Jamie Thomas, Fallen Footwear is now one of the top players in the skateboarding business. Even though Fallen Footwear was out of the market for almost two years in the period between 2016 and 2017, they haven't lost its authority and trustworthiness on the market, therefore, after the relaunch on 1 January 2018, the company crashed the market with the old models as well as new ones. 
The Easy is one of the most popular and well-sold products of this company. Its laces-free construction and absolutely insane design have attracted a lot of professionals, not to mention the amateur market. The outsole is made of abrasion-resistant rubber that won't wear out for a long period of time. The Heel Drag technology improves durability by adding additional rubber reinforcement in the hell, making the shoes more stable and secure. 
The insole is fabricated with Impact Foam technology, a special formula that adds cushioning and secures your feet from high impacts. Not only do these shoes provide durability and security, but also fresh style and a lot of comfort. That is why a lot of people around the world have chosen to wear them daily, they're balanced and qualitative.
Advantages
A lot of colors and patterns

Fresh style, durable and comfortable
Established in 1949, the German three-striped brand has conquered a good piece of sports clothing and footwear market since. Now, Adidas is probably the most popular company specialized on sports footwear and clothing. With the popularization of vegan-friendly products, Adidas has started to use only vegan glues for their footwear, so, if you found a pair that does not have any leather or suede in it, you can be sure that it is completely vegan. Another good part about this brand is its recycling policy. A lot of their footwear models are made from recycled plastic, rubber, and carbon fibers. 
Adidas Originals Adiease is the best model for skating made by Adidas. The grippy synthetic sole made for precise board feel won't wear out as easily as expected because of the premium rubber used to fabricate it. Breathable canvas upper in tandem with the lace closure not only makes you feel free and comfortable but also provides a good fit and won't let your Adiease shoes slip off. On top of that, this pair gives you top flexibility right out the box. 
Their design is truly iconic. These Adiese shoes combine classic looks with true performance designed to embrace the very essence of skating. Coming in different colors and patterns, Adiease shoes can be used in a wide range of outfits, starting with the sporty ones and ending with casual ones.
Check out more Adidas vegan shoes.
Advantages
A trustworthy brand with a lot of experience

Recycled plastic and rubber used
Disadvantages
An old design that won't attract much attention
Another subsidiary of Sole Technology, Inc., Emerica is one of the biggest skateboarding companies in the United States. Launched in 1996, Emerica is now a guarantee of quality and longevity not only for their footwear but also for clothing and accessories. This company is producing, besides footwear, skateboarding-themed videos you should definitely check out. One of the most popular videos they produced is MADE: Chapter One, firstly released in 2013. 
Emerica Wino Cruiser is an updated version of one of Emerica's classics, the Wino. The authentic designs remain the foundation stone of the new model. However, the reconstructed narrow makes them look fresh and stylish. The new rubber toe bumper keeps your feet safe and the newly designed Triangle Tread bottom in tandem with the grippy rubber used for the sole gives you stability and durability. The traditional vulcanized construction is made to add durability and strength to the whole shoe. On top of that, it looks amazing. 
The upper is made of 100% textile products that won't let your feet sweat and will keep the air circulation at the highest level possible. Not to mention the flexibility as well as the greatest fit you have experienced.
Advantages
The guarantee of quality and longevity

Breathable upper

Flexible construction
Vans is an American manufacturer of skateboarding footwear, clothing, and accessories. Since 1966 the company designed over 100 skateboarding shoe models and every year the number of acquisitions is increasing. Now, the company isn't specialized only in skateboarding footwear. It has a lot of training models, casual and even sandals for you to choose from. Vans is one of the most popular and loved brands in the world with over 17 million followers only on Instagram. 
Vans Skate Authentic is a tribute to the older models. With the nearly same design, the company succeeded to implement all new ideas and technologies to produce the best skateboarding model of all time. One of the biggest changes made is the usage of Duracap, a material that increases the durability of the sole, making it more stable and secure. Another perk of this pair is their new gum rubber compound named SickStick that is officially the stickiest rubber used by Vans. 
The engineers haven't forgotten about your comfort and feet protection. PopCush energy return footbeds ensure the best cushioning and impact protection on the market. On top of that, it decreases leg fatigue for longer skate sessions. The redesigned uppers make your feet breath more freely and the internal tongue straps in tandem with the lace closure provide a locked-in fit and more board control.
Advantages
The best board control on the market

PopCush energy returns footbeds
Since 1996, the year company was established in California, Osiris Shoes has become one of the top players in the skate footwear business in the United States as well as worldwide. The main reason Osiris became as popular as they are in the innovative and influential designs merged with premium materials and high quality. These factors combined have given the company an opportunity they didn't waste. In our days, professional skaters like Clint Peterson, John Rattray, and Corey Duffel are helping the company to popularize their products and make them even better. 
Osiris Relic White is the most popular and well-designed model in their entire series. Being 100% synthetic, these vegan-friendly sneakers are a guarantee of quality and durability. Not only do they ensure the best security on the market but also provide comfort and support for you to feel confident and cozy. The iconic style hides a lot of reinforced high abrasion areas that give superior durability and stability. The rubber sole is grippy and thin enough for you to feel the board. 
Lace closure and lightweight padded tongue give you the opportunity to tighten or loosen up the shoe in case you want to feel more comfortable or need the best fit you can get.
Advantages
Lace closure

Premium materials and quality
Converse, a subsidiary of Nike, Inc., has been founded in 1908. With a history of over 100 years, Converse is the most popular footwear brand in the United States. Its logo as well as the iconic models are recognized all around the world with a fanbase of other 11 million people on Instagram only. Their products can be seen in a lot of different sports starting with basketball and ending with skateboarding. 
Chuck 70 is a tribute to the 70's heritage of Converse. Their premium comfort, durability, and fit surprised the community back then and are doing the exact same thing now. The combination of the original 1970's design with the premium materials and extraordinary attention to tiny details has resulted in one of the best-sellers in the whole history of the company. The though canvas upper, lightweight and durable, makes you feel comfortable and protected while the high silhouette gives better control over the board. 
OrthoLite insole brings more comfort and cushioning for you to feel protected and get rid of leg fatigue at the end of the day. On top of that, the rubber outsole brings added traction in the game, making them a lot safer, your feet won't slip away.
Advantages
Less foot fatigue

Lightweight

70's design you will love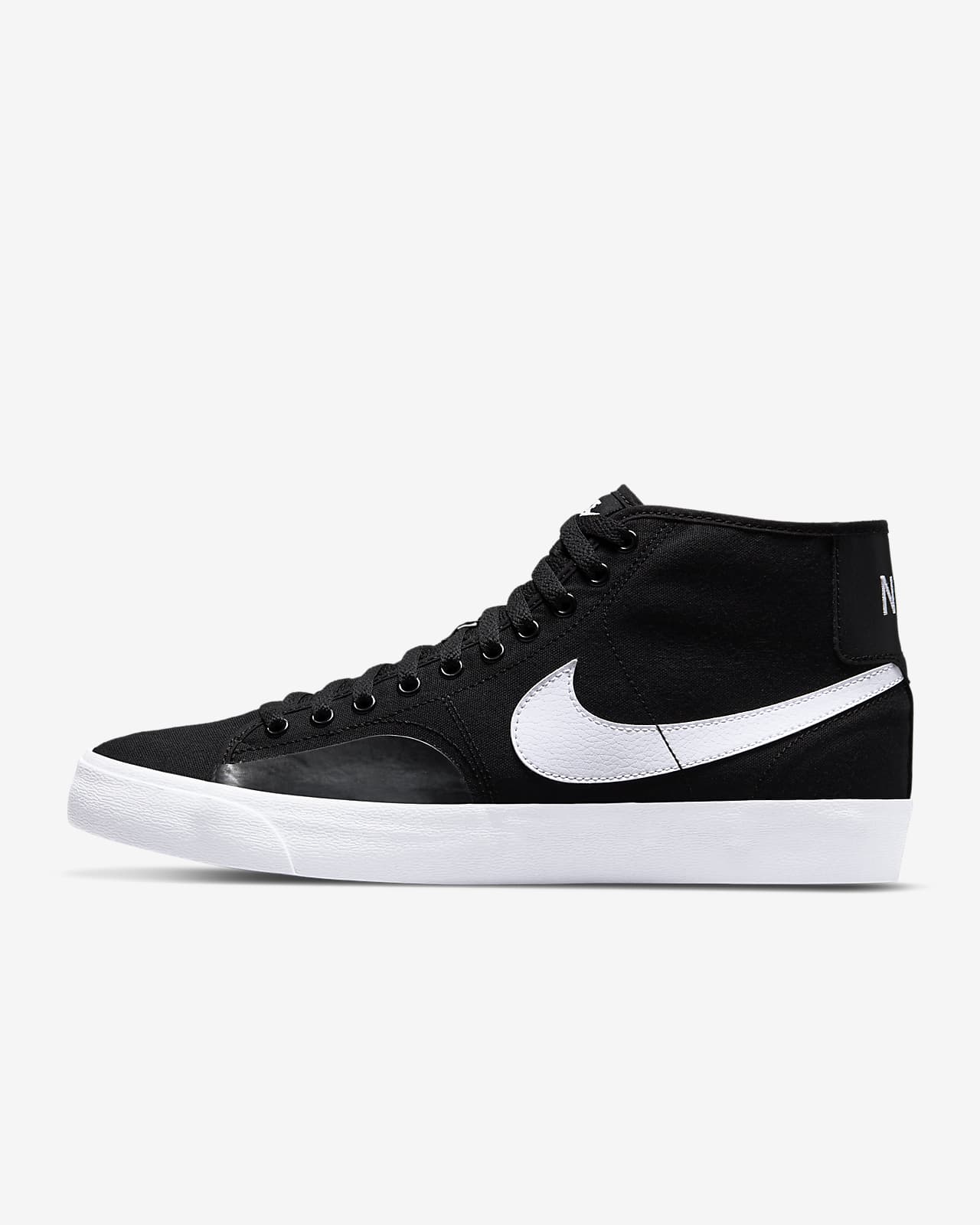 Nike is, alongside Adidas, the biggest sports brand in the world, no wonder they have a unique collection dedicated only to skaters. Since its foundation in 1964, the company has developed a lot of new technologies that are implemented in every single piece of footwear they produce now. So, if you decide to buy a pair of vegan skate shoes from Nike, be ready to receive an innovative pair of shoes that will feel amazing on your feet. 
Nike SB BLZR is a model that brings the court vibe to the streets. A reinforced ollie zone and the toughest rubber sole on the market help you last through your dangerous skate sessions. The vintage vibe from the mid-cut collar and materials like canvas and leather, of course, synthetic leather, makes all your outfits more stylish and authentic. The design, straight out of the '80s, in tandem with new technologies and premium materials, makes this pair of shoes nearly the best on market. 
Build to last, this pair is extra durable and won't wear out for a long period of time. Patches that reinforce the ollie zone, durable double layer canvas, and hard rubber sole, all these materials make Nike SB BLZR indestructible. 
Want to see more vegan shoe options from Nike? Check out this article!
Advantages

Extra durable canvas

Reinforced ollie zone
How to Choose the Best Vegan Skate Shoes
In this part of the article, I will teach you how to choose vegan skate shoes, what factors you should look out for, and why. However, you should understand that in order to pick the best pair of shoes you need to go through your preferences and understand what type of skate shoes you like the most. 
Upper
In comparison to other types of shoes, skateboarding shoes are made mainly of the two most popular materials: canvas and mesh.
Canvas is probably the most popular skateboarding material because of its durability and breathability. On top of that, it is completely vegan and does not have anything in common with animal-based products. This material is lightweight and durable, the best qualities for skating, but do not think that it will restrict your movements, it is thin enough not to do that. To sum up, the canvas is a thin yet durable material with delightful breathing qualities and is cruelty-free. 
Mesh, on the contrary, is less durable than canvas. This material is a lot more popular than canvas because of its usage in a wide range of other types of shoes. Running shoes, track shoes, hiking shoes, all of them have some mesh in their construction. This means that mesh is not as specialized for skating as the canvas is. However, due to its amazing breathability and lightweight construction, there are a lot of models that make good usage of this material in their upper. 
You have to choose between durability and breathability. 
Grip
Naturally, the most important thing in a pair of skate shoes is their grip and traction. You don't want to slip off your skateboard, fall, and break some bones, do you? Skateboarding is already a very difficult sport, you don't have to make it harder by denying the existence of rubber soles and grippy materials. 
The best way to ensure you have the strongest grip possible is to go for a rubber sole. Rubber is naturally sticky and, in addition to the abrasive spraying of your skate, it will decrease the risk of falling significantly. 
In addition to that, you can search for reinforced models with abrasive parts incorporated in the sole. This will make you feel more confident on the board. 
Comfort
The first step to ensure the maximum level of comfort possible is to choose the right size and model that won't restrict the movement of your feet. After that, you can search for padded tongues and collars that will prevent unnecessary pressure on your feet. 
Another step is to search for a model equipped with footbeds made of EVA, foam, or other comfortable materials. If you don't find a model like this, you can buy a pair of footbeds in addition to your sneakers. That way you will feel more comfortable, won't experience foot fatigue for a long time, your skateboarding session will last longer, and the quality of your skateboarding will increase. 
Fit
A pair of skate shoes that aren't the right size for you are completely useless. Not only will they cause permanent discomfort but also will make your performance weaker. A pair too small will cause pain and will just feel uncomfortable. On the contrary, one too large will increase the risk of falling and will completely mess up your balance. 
In order to avoid these consequences, you should always check the brand's size charts before buying anything, especially online. If it's a unisex pair, check both male and female charts to be completely sure you won't mess up the sizes. 
It is a good idea to read some users' reviews before buying anything online. If they have problems with sizes and it is a common complaint that models are smaller or larger than expected, you should listen carefully to what they have to say. 
The right size is not always a guarantee of a good fit. To improve this parameter, there are a lot of models with lace closure. This construction will permit you to adjust the shoe and I strongly recommend you buy a shoe with lace closure. 
You might also like: